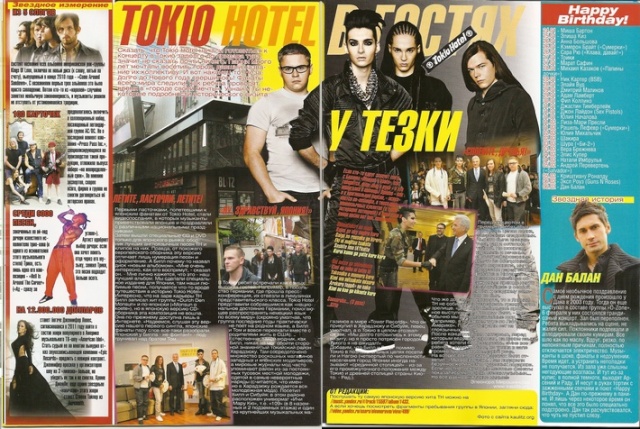 Chutt x). Je vous fais une traduction française un jour...

_________________________________________--
Tokio Hotel visits their namesake.
To say that Tokio Hotel has begun to prepare for the concert in Tokyo long ago is to say nothing. For many years guys were dreaming of a visit to the city that gave the name to their band. And finally it happened not long before New Year! Fans from around the world were watching the guys spending their time in the "city of their dreams". Now you can also find out some details of this historical visit.
Fly, the Swallows, fly! (In Russia, the swallows are the first birds that are coming back home in spring after spending long winter somewhere else. If the Swallows are here then we know that spring is soon will be here. So the swallows in this article meant as first messages!)
The first swallows (messages) to their Japanese fans from Tokio Hotel were the messages where musicians were sending their congratulations with all kind of national holidays. Then there were special CD and DVD were released there, only for Japanese market: compilation of best TH's English songs and theirs video clips. The order of the tracks and the cover art on it is the only thing that differ it from its European version. But Bill, for some reason, called this album "new". "I am very curious to see how it will be perceived, – he said.- I personally think that it's our best album. We made special edition for Japan, there are our favorite songs on this CD, so it like a journey to/through Tokio Hotel history". Interesting fact is that in the beginning of their carrier Bill recorded Japanese version of their hit "Durch Den Monsun" ("Monsun o koete"), but that version of the song didn't make it in Japanese version of CD. It's still only available on Internet. "We hope that Japanese fans was able to understand at least few words while listening this version of our single, because Bill's Japanese is not very good"- Tom is teasing his brother.
They were treated in Tokyo as important VIP guests. To the press-conference in German Embassy they were brought in limousines, for example. They were presented at the press-conference as national treasure/asset that helps to promote German language all over the world (although nobody mentioned that in past years the band practically stopped singing in their mother tongue, and Bill and Tom even moved to USA with their parents). WTF! They recorded two language album and have done tour singing both languages!!!
Obviously, Bill as fashionable person, couldn't pass on visiting Harajuku. There are plenty of fancy stores of Western and Japanese designers in this district, and fashion magazines around the world frequently talk about this district because of big social scene of Japanese youth there who always dressed in some incredible outfits. (They say that all young fashion is born in Harajuku). Bill also visited Shibuya: there is big '109' Supermarket here (it has 8 floor, plus 2 underground floors)and the biggest music store in the world "Tower Records'. Bill didn't say what he bought in Harajuku and Shibuya, but he mentioned this about Tokyo city: "We were preparing for this visit for long time, and I am just shocked by the city. I wasn't expecting this". Also Bill and **** (can't make out what the word is) visited Nagoya (fourth biggest city in Japan, between Kyoto and Tokyo).
There was full shelf of sweets in boys' dressing room before the concert. Whose initiative it was to get it there still remains mystery. The pictures of chocolate bars, caramel candies and crackers, snapped by one of the staff members, immediately appeared on Internet – and caused quite big discussion: none of the boys has been ever noticed in special love for sweets before. (gallo's smilies and I agree – and WUT?
As about the concert, Tokyo Hotel wasn't going to do their big (grandiose) show. "It was a small test performance, – says Bill, – Although we usually doing big shows like, for example, in latest tour in South America". Guys played set of 10 English songs.
After the concert there was an interview, before which the interviewer asked In what language do they prefer to do it. "I don't really care, – replied Bill" but the crowd was loudly demanding German. On the question about Japanese fans Bill answered this: "We've got mad amount of wonderful presents. To be honest, some of the girls seemed to be very shy… but they are very lovely anyway!"
Here is the poster from that issue: https://2img.net/h/i208.photobucket.com/albums/bb101/tokiohotelamerica/scans/2011/allstarsposter.jpg