th-bill-kaulitz
The Power Member


Nombre de messages

: 5432


Age

: 26


Localisation

: avec Phélix regarde linterview que jai fait avec Jow et pense fort fort a sa star(Jow)


Date d'inscription :

07/02/2009


Sujet: [magazine]Bravo Nº52/09 Décembre 16th 2009, 5:12 pm

---
Icy
Tokio Schrei


Nombre de messages

: 2392


Age

: 31


Localisation

: Montréal


Date d'inscription :

17/02/2008


Sujet: Re: [magazine]Bravo Nº52/09 Décembre 20th 2009, 7:51 pm

---

Voici une traduction en anglais de l'article (avec une bonne nouvelle concernant Tom et Perrine... pas si bonne à notre goût de fans de TH à l'égard de Perrine, mais si c'est pour sauver Tom, pourquoi pas.):

Citation :

DOES TOM HAVE TO GO TO JAIL?

The guitarist of the mega band faces up to five years in jail – for assault! However, there might not be a trial at all…


Top picture (Les Afghanes): The girl-gang "Les Afghanes on Tour"

Small band picture: Georg, Bill, Tom and Gustav will continue standing on stage as a foursome in the future

Bottom pictures: The crime scene: a petrol station on Stresemannstraße in Hamburg. [It was] Here Tom allegedly knocked down Perrine. Thereupon the 21-year-old had to be taken to hospital. Perrine filed charges for assault with Hamburg's police!

Apart from Tom, Perrine would also gain from this deal!

The rest of the girl-gang still has to have the jitters.

PAGE 2

Tom picture: Tom can breathe again: a deal with the opposing lawyer saves him from a trial!

CCTV picture: Pictures from the petrol station's CCTV: That's when Tom (white jumper) is allegedly hitting Perrine in the face…

From the stage to ending up in the slammer! From the red carpet into a grey cell! Cold neon light from the ceiling instead of a flurry of camera flashes. What a nightmare to envision for millions of Tokio Hotel fans: Tom Kaulitz behind bars! The mega-band doomed to come to an end! Their guitarist to have a criminal record! That's exactly what the 20-year-old faces. And why?

Because of this one night: it is said that the Tokio Hotel guitarist knocked down 21-year-old Fan Perrine D. at a petrol station in Hamburg on 15th April this year. That's what the girl accuses him of anyway. However, there are grave doubts about this story. After all this isn't about a "normal" fan – but the member of a nasty stalker gang who allegedly even attacked the mother of Bill and Tom!

Nonetheless: Should Tom be convicted in a trial, he'd have to be prepared for up to five years in prison! However, as BRAVO has learned exclusively now, it probably won't get that far. Luckily Tom has got good chances to still be allowed standing on stage!

Band manager David Jost (37) explained: "Until today the charges of the prosecution haven't been forwarded to us. Whether there really will be a trial or not isn't certain at all yet." Hamburg's senior public prosecutor in charge, Wilhelm Möller, also sees it that way. He confirms to BRAVO: "At present the whole thing is a pending lawsuit. Meaning, it doesn't necessarily have to end in a public trial. In addition, there is also an out-of-court settlement being considered.

TH-Manager Jost: "Perrine's and Tom's lawyers intent to drop their respective charges. Condition being that Perrine agrees in writing to stop stalking the band and their families."

At the moment, both parties work on a secret deal that would not only save Tom but also Perrine because she's facing up to three years in prison on her part – for stalking. According to Tom's statements the Frenchwoman is a member of the girl gang 'Les Afghanes on Tour' who allegedly has been following him, his family and band mates in an extreme manner for months already. Then everything got out of control at said petrol station in Hamburg! When Perrine allegedly stubbed out a cigarette on Tom's sports car, an Audi R8 (value: 130,000 Euros), the star supposedly lost it… Perrine had to receive ambulant treatment at a hospital, [as she] allegedly suffered from a perforated eardrum, swelling to the left eye and contusions. She pressed charges for assault.

However, Tom didn't put up with it. He also filed criminal charges and in addition sued for Perrine and her friends Angelina (25), Noemie (20) and Aurore (21) to stop terrorising the band. Should Perrine accept the deal, she'll be free. Her friends on the other hand will still have to worry! "The charges that have already been filed against the other members of 'Les Afghanes on Tour' will still be pursued without a change.

Those have already been delivered to some extent which, however, is time-consuming due to the residences of the defendants [being] in France", David Jost reveals. And [what about] Tom? He finally wants to forget about the worst night of his life – and just [wants to] start rocking out freely again!
th-bill-kaulitz
The Power Member


Nombre de messages

: 5432


Age

: 26


Localisation

: avec Phélix regarde linterview que jai fait avec Jow et pense fort fort a sa star(Jow)


Date d'inscription :

07/02/2009


Sujet: Re: [magazine]Bravo Nº52/09 Décembre 21st 2009, 12:23 am

---

merci pour la traduction je ne lavais pas trouvée
Stl
Lover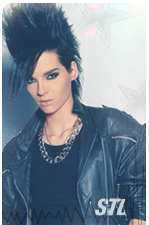 Nombre de messages

: 3486


Age

: 24


Localisation

: Perdue dans mes pensées =)


Date d'inscription :

11/07/2008


Sujet: Re: [magazine]Bravo Nº52/09 Décembre 28th 2009, 10:00 pm

---

Merci pour les scans et la traduction.

Je me demande vraiment comment cette histoire va finir!
Ça me stresse pas mal... Mais au moins, ça avance et ça semble s'améliorer pour Tom.
MimiKaulitz
Dieu/Déesse TH


Nombre de messages

: 8669


Age

: 23


Localisation

: Là où l'impossible ne l'est pas


Date d'inscription :

24/08/2007


Sujet: Re: [magazine]Bravo Nº52/09 Décembre 29th 2009, 3:21 pm

---

Si vous trouvez une traduction en français, hésitez pas à la poster hein
Contenu sponsorisé

Sujet: Re: [magazine]Bravo Nº52/09

---